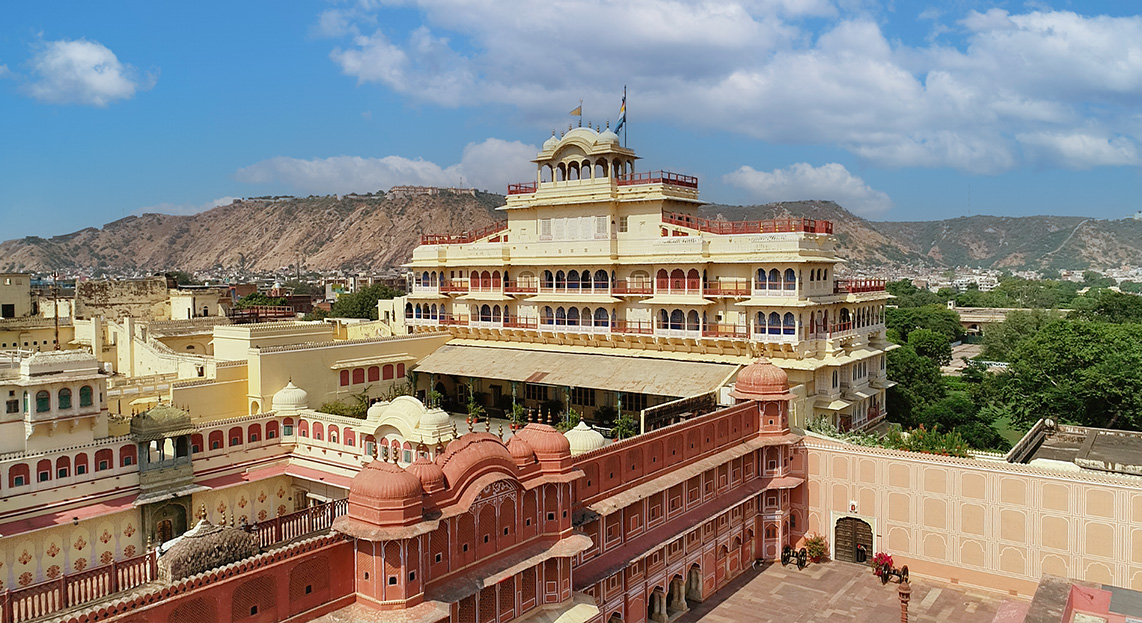 Jaipur's Royal Connection
Diya Kumari, from the erstwhile royal family of Jaipur shares her legacy and thoughts on the city her forefathers built with Dharmendar Kanwar, well known chronicler and author of books on Rajasthan and Rajmata Gayatri Devi.
Q. Tell us about the founders of Jaipur and their deep interest in the arts and crafts
My grandmother, the late Rajmata Gayatri Devi, always used to say that whatever we are today is because of Jaipur. I totally agree with that and today, I am trying to keep the legacy alive – of not only promoting but also reviving crafts that have suffered in these two years of the pandemic. It's a small effort in that direction, of reintroducing the splendid crafts of Jaipur to the world, of promoting and providing a platform to the skilled artisans and craftsmen of Jaipur. But there is so much more to Jaipur than its arts and crafts. So, I would like to share a brief look at the city and its impressive history.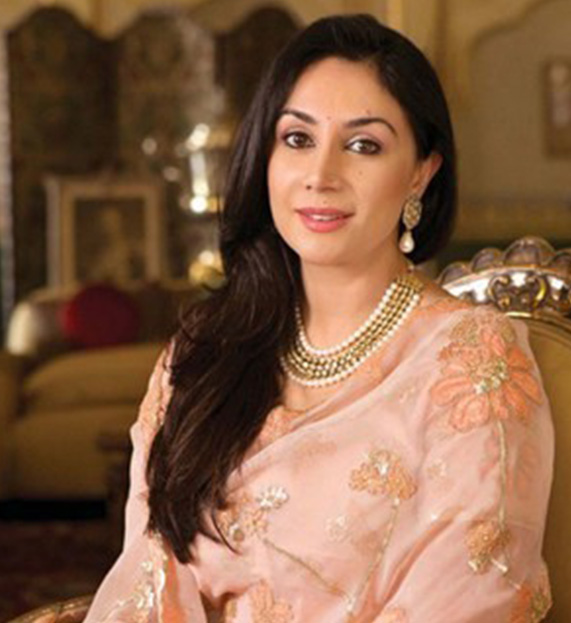 Her Highness Princess Diya Kumari
My ancestor Maharaja Sawai Jai Singh, well-known as a patron of arts, founded the city of Jaipur in 1727, and it was his planning genius that gave it an identity as a city of arts and crafts. From marble to wood, paintings to printing, jewellery to pottery the city has a long list of crafts that have done the Pink City proud, so much so that UNESCO placed Jaipur in their Creative Cities Network in 2015 and as a World Heritage City in 2019.
The city was built keeping in mind the principles of ancient Indian architecture. It was divided into nine blocks, out of which two are occupied by the state buildings and palaces – we still live in the Palace and quite a few sections have been converted into museums that are open for tourists.
One important piece of information that often gets overlooked is the fact that Raja Man Singh was among the first rulers who patronised arts and crafts and started ateliers and many departments (see story on 36 Departments) that were devoted to different crafts and many have survived to this day. This tradition was continued in the 18th century and was an important element of how Jaipur was planned and how areas within the walled cities were designated to multiple crafts.
My father, Bhawani Singh, was my role model - he distinguished himself in the Armed Forces after he was commissioned into 3rd Cavalry of the Indian Army and was awarded India's second highest military honour, the Mahavir Chakra in 1972, for his gallantry and heroic act when he captured Chachro in the Indo-Pakistani War of 1971. Other than being a highly decorated soldier he was always there to help the people of Jaipur and always carried the tradition of being available for his people.
After his demise, we, my two sons and daughter, continued to reside in the City Palace along with my mother, Rajmata Padmini Devi. Over the years I too started feeling that I should do whatever I can to help the people of Rajasthan and it was with this in mind that I stood for election and am today an MP from Rajsamand. The words of my grandmother Rajmata Gayatri Devi that "we are what we are because of the love and support of our people" continue to resonate with me and I am determined to keep that legacy alive.
Q. What would you recommend to a first time visitor or even repeat visitors to see or must do in Jaipur.
I wish every traveller who comes to Jaipur takes time out to visit the City Palace and several museums housed within it.
Jaipur's City Palace is a delightful blend of Mughal and traditional Rajasthani architecture, and sprawls over one-seventh of the area in the walled city. It houses the beautiful Chandra Mahal, Shri Govind Dev temple and museums.
Other areas of interest here are the Mubarak Mahal, originally a guest house for visiting dignitaries that houses the royal costumes museum; the Sileh Khana that houses the weaponry; the Diwan-i-Khas or the Hall of private audience that is noteworthy for its carved stone pillars as well as the two gigantic silver urns that stand here, these are believed to be the largest silver objects in the world. These urns were filled with the holy water of the Ganges by Maharaja Madho Singh II, a devout Hindu, and were believed to have been transported all the way to England so that he would not have to drink polluted water.
Diwan-i-Am, or the Hall of Public Audience is now the art gallery and contains some of the best miniature paintings to be found anywhere in the world. Also on display are rare manuscripts, carpets and paper cuttings.
Pritam Chowk in the inner courtyard leads up to the Chandra Mahal as the top floors are still occupied by us. While here do not miss the four beautiful gateways in the courtyard, each representing the seasons – Peacock Gate being the most photographed one for its exquisite paintings.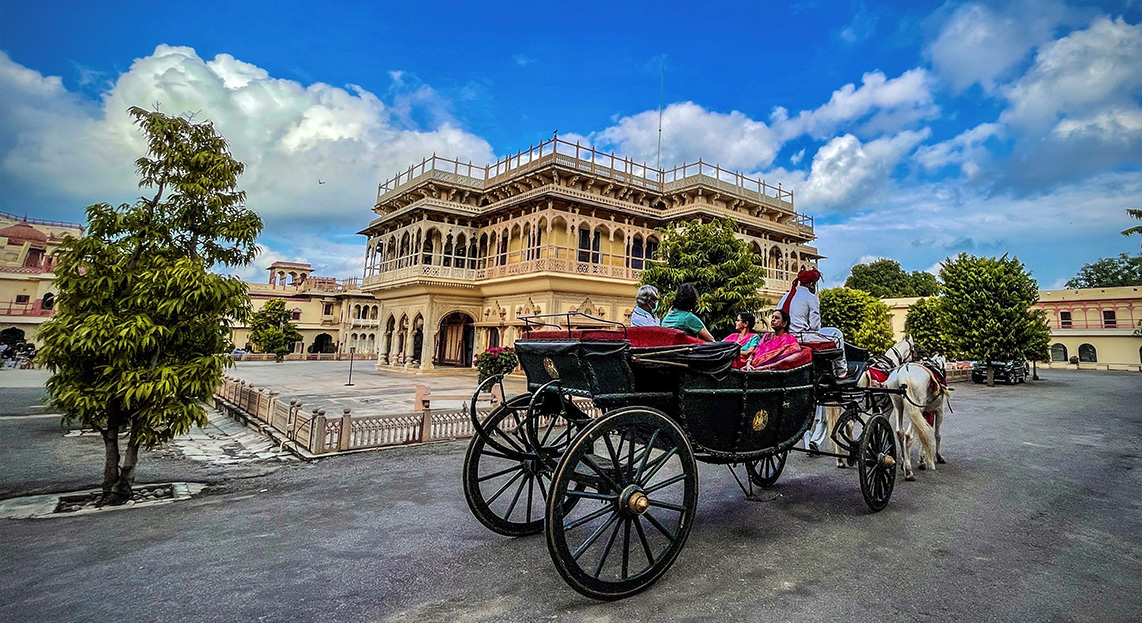 Q. What are your future plans for the City Palace and what should visitors look for in the coming months.
We continue to work on new galleries to display the finest works of art from our collections. The Paintings & Photography Gallery is already open and more are in progress. Other recently added attractions include the Sculpture Lumiere, a sound and light show that forms part of the Museum at night, and the new palace restaurant, Baradari where guests need to make prior reservations for a royal repast.
For more information on timings and tickets to the City Palace, Museum and table reservations at Baradari Restaurant click on https://royaljaipur.in

MORE TALES & STORIES FROM THE GLOBE TROTTERS